The secret to a successful business is its promotion which includes blogs too. That said, it takes more than sharing a link to a post on your Facebook or Twitter account, more effort is necessary to truly improve your business or generate more traffic on the website. That's why blogger outreach has become quite popular nowadays. Blogger outreach or blogger relations refers to businesses working with bloggers to create genuine and authentic content to promote services, brands, products, and so on. Throughout this post, you'll see ten blogger outreach strategies to try.
1. BuzzSumo
BuzzSumo allows you to research blog post titles and see how your content is performing, but it does much more. For example, you can use this website to find the best performing content in a particular niche e.g. content marketing. When you find the popular content, all you have to do is to reach out to the appropriate party, introduce yourself, and make your pitch to set up a collaboration in the form of guest blogging, or mentioning your brand in apost, and so on. The greatest advantage of this website is that it's easy to use.
Here's a quick tip; when making a pitch for guest blogging or any other type of blogger relations, always make sure you include the person's first name into the email. Although it's a respectful thing to do, most people avoid it which is a big mistake because it's important to leave a good impression and build a solid relationship with that person.
2. Find Authentic Brand Ambassadors, Send Something for Free
Bloggers are everywhere today, thus making it easy for you to find potential brand ambassadors that will promote products or services you provide. One of the best ways to do so is to reach out to them, introduce yourself and your brand, and make a proposal that also includes something for free. Let's take Lorna Jane as an example, the brand's head of digital marketing chooses bloggers, sends specific pitches or proposals and provides the link to the company's active wear to pick out a free item. That way, bloggers post photos and content mentioning the brand. If you have a business or service to promote but can't really afford to send something free, brainstorm and find a unique approach that bloggers will find intriguing and collaborate with you.
3. GroupHigh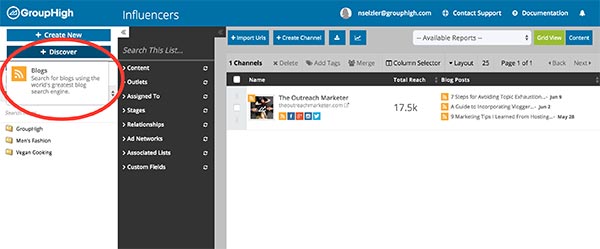 GroupHigh is one of the fastest blogger outreach tools you can use which is why more than 400 companies and organizations use it. Using a variety of filters you can comb through the massive database of about 15 million blogs to narrow down your search and find best bloggers for your campaign. The software also provides built-in email, allows you to contact influencers, and much more. The tool is fast, versatile, has a number of different features with a single purpose – to help you find blogger (or more of them) easily.
4. Proven SEO
Individuals and companies looking for reliable tools for successful marketing through sponsored content often turn to Proven SEO. Proven SEO is a leading influencer marketing and sponsored content platform that specializes in connecting brands with top bloggers and publishers. They also help connect brands with social media influencers as well. The platform helps clients achieve online presence, spread awareness of their brand, and achieve top search engine rankings.
5. Host Blogger Events
Blogger outreach doesn't require software only, hosting blogger events is an effective strategy to expand the visibility of your brand. The face-to-face events result in a stronger ongoing relationship with influential bloggers and add more authenticity to posts they write about your company, products, or services. This unique approach enables you to avoid the common mistake that most people make – they forget that bloggers have a life outside the blog. Reaching out to them and inviting different bloggers to events also shows you don't look at them as promotional tools only.
6. Tomoson
Tomoson isn't your average blogger outreach website, but it's useful anyway. When entering the website, you can click on "Find influencers" option and get started. You are taken to a page where it's necessary to write a keyword, e.g. health, lifestyle, tech, and it automatically lists influencers matching the keyword you submitted. Clicking on their profiles, you'll see the number of followers, blog clicks, and other important stats. A major benefit of Tomoson is the built-in audience. You don't have to search for influencers and bloggers, they are already in the system and all there's left to do is to decide which one to choose.
7. Don't Ask for Fake Reviews
This is yet another mistake that brands make – they offer something to bloggers and ask them to write only positive things. That's not how it works! Blogging may seem incredibly easy, but it's not. With the ever-growing number of bloggers out there it can be difficult to succeed, stand out, and get thousands of followers. So, those bloggers that do succeed have worked hard to build a base of followers who trust them and rely on reliable posts. That's why you should never contact a blogger or influencer making a pitch and demanding all-positive content. The best thing to do is to ask for an honest review. In fact, they'll appreciate your approach which is always a plus.
8. BuzzStream
BuzzStream allows its users to research influencers, manage relationships, and conduct a personalized and efficient outreach. Although it doesn't seem much different from other blogger outreach options, it comes with practical features. While browsing the internet, you can add new bloggers, websites, and social media accounts to your profile with a simple click. Another useful feature is the ability to save a variety of information for future use. Also, BuzzStream also allows you to automatically research influencers without losing effectiveness.
9. Inkybee
One of the greatest advantages of Inkybee is its simplicity, which is perfect for all people who want to do the blogger outreach process without unnecessary complications. Inkybee uses various algorithms, text-processing, and machine learning techniques to process big data and allow you to find ideal bloggers and influencers. Probably the most useful feature of this website is Ongoing Blog Discovery which continuously scans the web to find blogs from your niche and points you toward different bloggers.
10. Ninja Outreach
What makes Ninja Outreach stand out is that it provides a platform for users from all parts of the world, regardless of the location or language. On the other hand, a vast majority of blogger outreach websites only focus on the US, Australia, UK, Canada, and some other countries. Ninja Outreach also offers personalization of templates, automatic email outreach, and tracks email statistics.
Conclusion
Blogger outreach is an effective way of improving your company, products, services, or basically everything you'd like. To do this, you should use websites that specialize in finding ideal bloggers for you, host blogger events, and establish a great relationship with influencers you find.